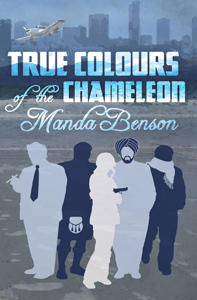 True Colours of the Chameleon
Donna Besman
My old boss made sure to burn my bridges when I lost my job. I'm a fallen synthetic chemist no pharmaceutical company will employ. However, it turns out there are other places my skills are in demand, and they don't ask for references.

'Doc' as she becomes known is the newest member of a criminal gang that rises to notoriety as The Birmingham Seven. Although she's originally recruited to design illicit drugs for the black market, Doc finds herself becoming increasingly embroiled in the gang's activities and drawn towards forgery expert and master of disguises 'Cam' (Chameleon). When the Seven's heist of the Blue Moon Casino goes wrong, Doc and Cam find themselves on the run with the spoils, pursued not only by the police but by fellow gang members who want the money for themselves and the pair dead as witnesses. As their enemies close in, Doc finds herself pushed to her limits, her grasp on right and wrong slipping when she is called upon to kill to defend herself and Cam, and it becomes apparent Cam is keeping a dreadful secret about his past from her that threatens to shatter her trust in him. As the law and their other enemies close in on them, they must overcome these barriers if there is to be any hope for their survival.


301-page electronic edition
ISBN 978-0-9566080-9-3

Order it
£1.90
Amazon.co.uk

Order it
$2.99
Amazon.com